I would love to share some thoughts about Jamie Hape. We work often with REALTORS® and are satisfied, but this time Jamie blew me away with her commitment to delivering the ultimate client experience by doing all it took to ready the client's home for the market and jumping right in with my team on the "estate sale" day. I am a witness that she delivered an outstanding client experience.
Lori Ligorio Owner of Caring Transitions of Scranton
"Dana Deleo is very professional, organized and easy to work with. He sold my home recently and assisted my husband and I with the purchase of our new home. We would definitely recommend Dana and Realty Network Group! Great job!"
Akeem & Emily Seller/Homebuyer
Tom, just a note to thank you for all your help in selling our house. Initially, you provided valuable advice so we could properly present our property. You then advertised it quickly and professionally and communicated between us and potential buyers. Lastly, when a buyer was found, you gave us the direction needed and directed an error-free sales transaction. Needless to say, your actions made for a stress-free situation for us. Thank you!
Frank Schellert & Janice Brostoski Seller
I'm writing this to make you aware of the great job your real estate agent, Tom Lynch did in the process of selling my home. I was recently widowed and had to sell my rental property because I did not want the responsibility of being a landlord. It took over a year to sell my home, but Tom stayed with it and never gave up, always keeping in touch with me. When the house finally sold, he even helped get things cleaned out of the house and volunteered to meet with the repair men when I couldn't get the time off work to be there. Tom is an amazing man and I won't hesitate to recommend him and your real estate company to everyone I know.
Lynn Mendicino Seller
I want to take a moment to thank you for the way you helped Mat and I make this decision because we are now pretty much in our dream home where we see ourselves being for many, many years to come. Lots of firsts will happen in this house we hope (first day as husband and wife, first day as parents, etc.)! You were always very realistic with us, and never really tried to SELL the house. You validated our concerns, and you let us ultimately make our decision without any kind of push that felt like you were trying to "guide" us in the direction you wanted us to go. It was an incredibly comfortable process despite being a generally overwhelming and nerve wracking step in life, and that's because of you.
Cecelia & Mat Homebuyer
I want to thank you for the outstanding services you recently provided to our mutual clients in the sale of their property through their father's estate. The property had been on the market for over one year, initially being listed by a previous REALTOR® without any real movement or viable activity. From the time that my clients engaged you, you were attentive, aggresive, and communicative in actively marketing the property. The property finally went under contract, and, after a series of a few ups and downs, successfully closed to the great pleasure of our clients! I am convinced that if it were not for your detailed and dedicated service, the sale never would have occurred. Having been involved in hundreds of real estate transactions over the course of my career, I can say with confidence that you clearly are one of the best of the best in your profession!
Richard A. Fanucci, Esq. Colleague
Tina was absolutely wonderful and patient when working with us. We were house hunting for a year and a half and she never stopped looking until we found our dream home, which we did and recently closed We never could have done it without Tina, she really is the best!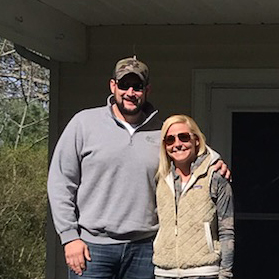 Lucy VanHorn & Jason Gornowicz Homebuyer
Took away all the stress of the buying experience. She was very informative, very truthful - told me the truth the whole time about what was going on in the process. She really cares about the person, not about the money. Thank you Christina!
Ehab Habib Homebuyer
I want to convey my great appreciation in having Jeff as my REALTOR® selling my house. He did all the footwork from hiring a photographer to re-doing the summary and the comp sheets. At times, when I was getting frustrated the closings were delayed, he kept my spirits high and told me to look at the big picture. Another REALTOR® from another company only cared about the sale for she only copied an incorrect summary sheet and was not agreeable with my decisions and wanted to sell at a much lower price. Jeff, on the other hand, was professional and cared about my intentions of selling the house and who the right buyer would be. I am very pleased I made the correct decision in have Jeff as my agent.
Dr. J. Donald Kazmerski Seller
I wanted to share a quick note to let you know what a top-notch job Heather did when selling my father's home. Since I resided from outside the area, I was referred to her by a local business woman. Heather accommodated my narrow time-frame as I was only in the area for a few days. Her advice on how to ready the home for listing was invaluable. She analyzed local property sales to competitively price my home, which lead to a full-price offer in only forty-eight hours! In conjunction with her business skills, she was caring and understanding, recognizing my father had recently passed away. I am thankful our paths crossed at a time when I was in need of someone whom I could trust.
Susan Hoynowski Seller