Make no mistake about it; marriage generates many things, one of which is real estate home sales.  Millennials who are about to "tie the knot" uncover many challenges ahead.  Oh and by the way, there's usually a long list of items which need to be accomplished prior to the big day.  What's more, there are more important things to achieve after the wedding – family, career development, saving and investing (just to name a few).
This is not to diminish the wedding "to-do" list.  It's stressful, but fun.  It's menacing at times, but is packed with joy that husbands and wives will cherish their entire lives, each time they remember their wedding day.  When it came to the wedding list, if you were anything like me, cost was a big factor in making decisions and cuts.
Most brides-to-be have given much thought to the type of dress they'd love to wear, or they have a photographer in mind for their wedding day, heck they may even have a playlist assembled for the DJ or band.  What some haven't given much thought to — where they'll live after they get married?
Though housing isn't tops on their list, many prospective brides know exactly where they'd like to live.  They haven't given much thought to mortgage pre-approval (though they should), but they want to know what's the largest house they can afford.  Perhaps they want to know what a six room, three bedroom, one bath home in the school district of their choosing sells for in today's market.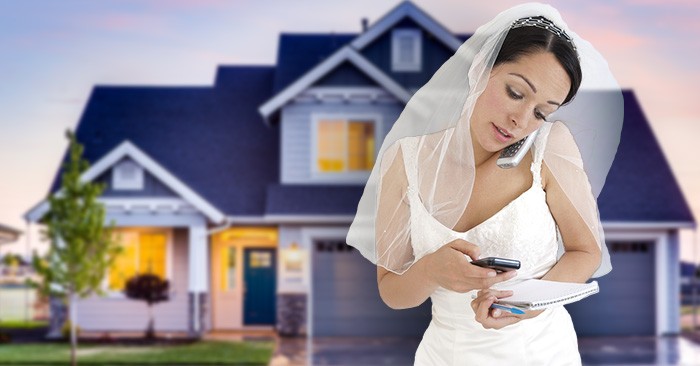 When we dive right into it, these thoughts are probing the minds of soon-to-be brides.  Women, who are second only to the largest home buying group, married couples (comprising 65% of the buyers' market).  According to the National Association of REALTORS® (NAR) Profile of Homebuyers & Sellers, they account for 18% of homebuyers — over double the amount of their male counterparts.  These women are clearly driving home sales.
Brides-to-be most likely are involved with homeownership in the immediate future.  Should they not calculate all their future purchases: gowns, caterers AND housing?  They should also strongly consider their perfect buyer's agents to discover real estate nuptial bliss.
Resources
Is Buying A Home Right For You, Right Now?
Choosing A Down Payment Over A Fancy Wedding
Getting Married? Skip The Fancy Plates & Ask For A Down Payment Instead
Modern Wedding Gift: Your Home Down Payment
Home Builder Registry: Ideas For Making A Couple's Dream Home A Reality
For all those women and men who will be getting married soon, we would like to sincerely wish you a lifetime full of happiness together.  We hope you discover a new profound sense of joy and find your dream home.  We'd love to assist you on your path to homeownership.  If you'd like more information/tips for first-time home buyers, download our "Today's First-Time Homebuyer"…
Did you know?
When investing in a home (whether single-family or multi-family), many first-time homebuyers need to think "longer-term" investment.  In recent years, over the last eight to be exact, the tenure for homeownership has increased from 5-7 years to now, 10 years.  This timeframe should strongly be considered prior to making a home purchase.